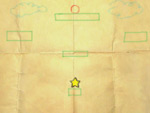 I was supposed to write something not Crayon Physics related, but I think I can't pass this opportunity. I know there's a lot of players anxiously waiting for the level editor. But apparently there are also players, who got tired of waiting and decided to crank out their own levels. During the weekend Otávio posted a comment that contained the first ever fan made level to Crayon Physics. There are some details in the comments on how he did it and it's pretty impressive. And yesterday I received another fan made level, by logr.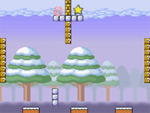 So I also decided to crank out one level and zip all the levels in to one file and now we have a semi official "level-pack-mod" to Crayon Physics. It has only three four new levels, but they are all delightfully difficult.
You can download the level pack from here (270 KB).
To install it, just extract the files and folders to the same folder where Crayon Physics is located. The "level_pack_01.bat" should be in same the folder where crayon.exe is located. To play to the new levels just run the "level_pack_01.bat" in the root of the game.
Thanks to Otávio and logr for taking the time to hack together the levels. I know that is wasn't all that easy of a task.
Edit June 20th, 2007: Just when I got the level pack published logr posted another level 🙂 So there are now four levels in the levels level pack. Check out the screenshot of logr's new ice level.