Monday, February 12th, 2007
The new version of Kloonigames Blog is here! On Thursday night I (finally) installed the new version (2.1.) of WordPress, plugged in the Sociable plug-in and then I started dreaming that perhaps I could also create a new layout for the site. I mean how hard could that possibly be. I used to do sites, back when Netscape Communicator 4.7 was the hottest browser and tables and invisible images where the formating choice of the professionals. Few years ago I briefly created some sites using XHTML and CSS and back then I thought it was easier to do a cross-browser layout with tables than it was with CSS. Luckily things haven't changed a lot, it's still a bitch to create a good cross-browser layout with CSS.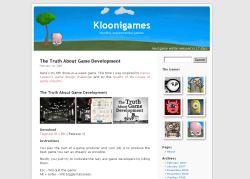 Well it turned out that it takes few days to get a new layout working in both Internet Explorer and Firefox. Well it doesn't work perfectly in IE, but I consider it as a form of a punishment for the people using IE as their primary browser. And if you dear reader are one of those pagans (I know that 31% of you are), who still mainly uses Internet Explorer, do yourself a favor and download Mozilla Firefox.
Enough ranting. The new layout is here and I hope you like it. There's the screenshot of the old site to refresh your memory and to see what has changed. Let me know, what you think of the new one. And also please report if (and when) you find out that something isn't working as it should be.