Tuesday, March 20th, 2007
In efforts to sharpen my rapid blogging skills, I present you something that happened less than 24 hours ago.
Rod Humble has just released his experimental game The Marriage for public. The game can be download from his website and it run under Windows 2000, XP and Vista.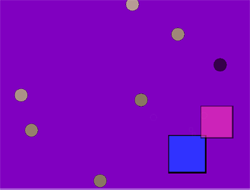 The game was presented at this years Experimental Gameplay Session and for me it was the most interesting game presented there. It was also presented at the Nuances of Design session, where we actually got to play it.
The Marriage is an art game, so be warned. It's gameplay isn't geared towards the fun (in the common sense), but it's meant to express how Rod feels about his marriage. It's very abstract and Rod provides on his website an explanation of the symbols in the game. I don't recommend you read them. If you don't know anything about the game, try it out and try to find the meaning to the game yourself. And if you really don't get it, then go and read the descriptions.
[Via: Arthouse Games].