Saturday, December 22nd, 2007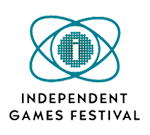 Few blog posts ago I mentioned that I submitted Crayon Physics Deluxe to the Independent Games Festival (which is like the Sundance equivalent of games).
And Crayon Physics Deluxe is in! It's nominated for the Seumas McNally grand prize in the main category. And it's nominated for the Best Student Game in the student showcase category. I'm totally blown away by all of this. It's awesome and exciting. Congrats to all the other finalists. Which by the way you should check out, because they are just awesome.