Saturday, February 23rd, 2008
That was my acceptance speech. I wrote it in crayons on my way to the stage. I still can't believe it, but Crayon Physics Deluxe won the Seumas McNally Grand Prize at the Independent Games Festival (IGF).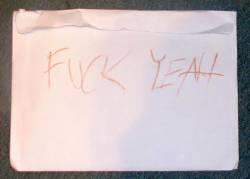 I'm just happy that I got to continue the tradition of crappy acceptance speeches (with monocoles) at the IGF.
I really didn't get a change to thank all the people who have helped me make the game possible. I felt a like a self centered brick, for not thanking anyone, but I didn't prepare at all for the possibility that I might win, so I was afraid to thank anyone, because I might totally forget a bunch of people. So here's a list of people without whom, the game would have never been made.
* _Ghost (Jarogniew Slotala), huge thanks for creating such an amazing piece of music and for allowing me and other people to use it. I think it's hard for an outsider to understand how much his music changed the game, I wasn't sure about the exact feeling I wanted the game to conceive and it wasn't until I listened to his song I realized what I wanted.
* Erin Catto, for his marvelous physics engine Box2D. Which he has created on his free time and which he generously released as an open source project and has never asked anything in return.
* Jussi Laakkonen for helping me out with the business stuff.
* Juuso Savolainen for helping me out with some of the coding stuff.
* Daniel Benmergui for helping me out with the design stuff.
* Petri Luukkainen for being an awesome friend, play testing the game way more than is humanly possible and for doing the youtube video.
* All the testers who have given me their precious time to use for the improvement of the game. Without you guys the game would have never made it!
* Kyle Gabler for inspiring me to start doing prototypes!
* All the people who wrote comments, forum posts, blogged about the game, emailed me about, harassed me about it, the guy who kidnapped my cat and demanded that I'll do a never version of the game or my get gets it… Huge thanks to you all, with out you I probably would have never made the game.
Edit: This was the reason why I didn't want to say any names during the acceptance speech, because I was sure I'd forget someone. So I wrote this blog post in a hurry so I forgot to thank Ale Fernandez and Krishinda Powers for allowing me to use their sample "Krishinda Singing" in a commercial product. Also thanks to _ghost for allowing me to use Lullaby in (in which "Krishinda Singing" is used) in a commercial product. (I feel awful for forgetting them 🙁 )