Tuesday, September 30th, 2008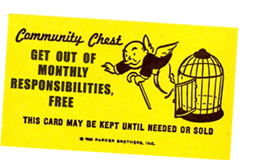 I'm using the "GET OUT OF MONTHLY RESPONSIBILITIES, FREE" -card.
The reason is I've been working hard on getting Crayon Physics Deluxe done (that's also the excuse for my the lack of posts, not doing the dishes and for pretty much anything that needs explaining). But I'll promise to post more about Crayon Physics Deluxe soon. Unless I'm working so hard on it that I'll forget to post about it.
I'll also try to come up with a game for the Gamma 3D (the deadline is 15th of October), but things are pretty hectic now here at the Kloonigames offices (read my apartment), so I don't know. We'll see.