Sunday, February 26th, 2023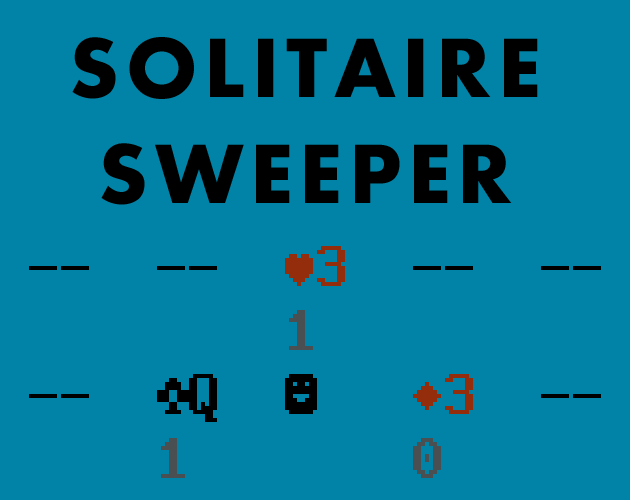 The pleasures of growing old: one gets to make minesweeper games without shame.
I made a small (and unpolished) Minesweeper variant. The game could be polished to make it more user friendly, but also I don't know if I want to put too much more time into it. I was inspired by some of the Minesweepers Hempuli did.
Original idea was to make it work with a full deck of cards. Unfortunately 4 suits seemed like too much, so I dropped one. It was also an interesting experience to play around with the "single wrong click and you die" -mechanic. It seems somewhat under utilized way of designing puzzle games, cause usually as a designer you want the game to be forgiving.
Solitaire Sweeper – Release 1
Download
Windows: SolitaireSweeper.zip (0.1 Mb) (Release 1)
Instructions
Minesweeper meets solitaire.
Your goal is to reveal all the cards without hitting any of the mines.
Click on space to reveal it
Right click to mark a mine
If you hit a mine, it's game over.
If the card flashes, it means there's a mine next to it in one of 8 neighboring spaces.
The number under the card tells you how many cards of the same suit are around that card. Max 8, min 0.
There are 3 suits (hearts, diamonds, clubs) and 13 cards each.
The orthogonal spaces next to a mine are always safe. I.e. Mines may NOT be next to each other horizontally nor vertically.
Credits
Game Design & Code: Petri Purho ( petri.purho (at) gmail.com )