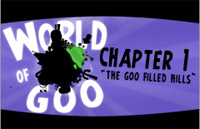 Lucky me, in a couple of hours I'm off to the Game Developers Conference. I should probably sleep, but I can't. I'm too excited. Not that much about GDC, but because I have two new games on my computer that I can't really play until I get back from San Francisco. The first one is World of Goo's Chapter One and the second game is Audiosurf. I pre-ordered both of them and they both were released right in the middle of this GDC travel mess that I'm trying to sort out.
If Kyle and Ron had released all the chapters to World of Goo, I would have probably just said "Screw GDC, I'm staying home playing World of Goo and Audiosurf". Lucky for me they didn't.
Anyway if anyone reading this will be at GDC, come by the IGF booths and say hello. I'll be there playing World of Goo and Audiosurf. I also have my own game there that I'm supposed to be demonstrating and representing. But to be honest I'd rather just surf through my Fantomas collection, which I'm planning of installing on Dylan's computer as soon as he moves away from it.
Oh and didn't get the Grammar Nazi update done in time. I blame Tim and his interview! 🙂