The feedback on Pluto Strikes Back has been surprisingly positive. So I thought I'd write a little bit about what's up with Pluto.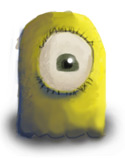 There's a new version of the game (Release 1.5). It fixes the "endless" score bug and makes the game a bit easier to gasp. It also makes a lot of the content modable. The new version can be download from here. Or if you only want a quick patch download this file and extract it on top of the older version of Pluto Strikes Back.
When you have downloaded the new version I recommend checking Pluto Strikes Back's first mod by Felekar. You can download it from here (just extract it on top of Pluto Strikes Back). It changes the game by increasing the gravity of other planets. The end result is very fun and very different Solar System to play in.
Pluto Strikes Back can now also be played online. Thanks to pjio.com. So if you haven't played the game already go to pjio.com and try it online for free. I'll soon be uploading all my games to pjio.com (I'll try to do that on Monday).
There's also a gameplay video of Pluto Strikes Back on Youtube.com (Thanks to Seebee). So everyone who doesn't want to download or play the game online can see what the game looks like in action.