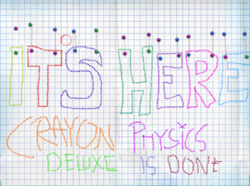 Yesterday the full version of Crayon Physics Deluxe was released for the PC with a bit of cryptic blog post. So I thought I'd answer some of your burning questions by providing a demo and a FAQ.
So yes, Crayon Physics Deluxe is finally here. You can go and buy it for 20$ from here. Or you can download the demo and give it a test.
There's been a lot of questions going around about the game so I though this would be a good place to go through some of them. It's sorta like a quick FAQ about the game.
FAQ
What are the system requirements of the game
Windows XP / Vista
1 GHZ or faster CPU,
512 MB or more RAM,
DirectX 9.0
3D card with 128 MB of texture memory
When in doubt, you can try the demo to see if it runs on your system.
Is there a Mac / Linux port
Unfortunately not at this moment. I'm planning of doing these as soon as I'm done with the PC version of the game, but I can't promise anything at this point.
I bought the game but I didn't get my download link
Check your spam and if you can't find anything try this tool: http://www.crayonphysics.com/resend_secretkey.php. If that doesn't work email me at crayonphysics@gmail.com and I'll get back to you with your lost email.
The quickest way to get help is to go the forums. You can also email crayonphysics@gmail.com and I'll get back to you as soon as I can.